In my humble opinion, I feel that brushes are often looked over when people are beginning with makeup. When I was starting out with makeup, I never paid much attention to brushes. However, I quickly realized that one simple brush can transform the way your foundation applies or your eyeshadow blends. Even though they aren't nearly exciting as buying the new Naked palette, they are a necessity.
If I were to lose every brush in my possession, these brushes are what I would make a beeline for. The best part? Every single one is wallet-friendly. The other best part? The majority (save for one) are available in store, so you can test and see them in person. So mix and match, or go for all of them. Although the price altogether may seem steep, remember that these are single purchases--you won't have to buy a new one in two months like your foundation.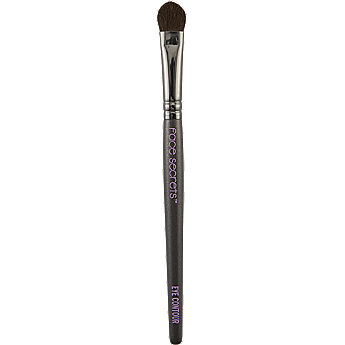 1) Face Secrets Eye Contour Brush, $6.49 (Sally's Beauty Supply)- If there is one eye brush that can do it all, its this gem. I mentioned it in my one brush eye tutorial as my favorite brush of all time. Why? 3 reasons. When laying flat it can sweep eye shadow across the entire lid and blend into the crease. The point can apply eyeshadow to the brow bone and tear duct with precision. And finally, when turned on its side it can apply shadow to the bottom lash line without making you look like a raccoon. It's also very easy to clean and has NEVER SHED whilst in my possession. Alas, world peace found in a $6.49 beauty gadget.
2) Real Techniques Starter Kit, $17.99 (Ulta)- If there is one brand that takes me to my happy place, it's Real Techniques. Founded by the ultra famous and gorgeous Pixiwoo sisters from YouTube, they have been a hit since they hit the market. So, why are these so good? Well, the Pixiwoo gals, Sam and Nic, are professional makeup artists so they know exactly what a brush should do. This isn't the typical celebrity beauty line with mediocre products to boast; each brush in the line has a 4 star or more rating. This was one of the first products that the line featured, which includes a case and five brushes. Yep, you heard me. FIVE BRUSHES for under $20. The beauty gods are smiling down at that price point.
The actual kit contains a crease brush, base shadow brush, accent brush, liner brush and brow brush. Each and everyone works like a dream, have never shed, clean in a pinch, and have multiple uses. My favorites are the crease and base shadow brush. The crease brush can be used to blend concealer or set under eye concealer with powder. The base shadow brush might seem like it is lacking at first, but can really pack on pigment without causing fall out. In short, you will not be disappointed.
3) Real Techniques Stippling Brush, $9.99 (Ulta)- One word: Yas. I have been using this brush for years to blend out my foundation. Words cannot describe how great this is; it has never shed or lost its shape or density. Also, it doesn't soak up product, which means you don't have to repeatedly squirt out more foundation on the back of your hand. Even if you are using a tinted moisturizer or bb cream, this will give you the most coverage by far. My only concern with the brush is that if you have dry skin, the bristles (although incredibly soft) could pick up on some dry patches. But, never fear, I have other options for you!
4) Real Techniques Expert Face Brush, $8.99 (Ulta)- Another amazing option from Real Techniques. Without a doubt, either the Stippling Brush or Expert Face Brush will give you amazing coverage and blend seamlessly. This would be a better option for those with dry skin, just because there would be less of a chance of it picking up on dry spots. I use this to blend my foundation and under eye concealer, but you can also use it to apply cream blush or contour. I find that with certain foundations (Like Revlon Colorstay Whipped) this blends better than the Stippling Brush. But all in all, either of the two are quality finds.
5) Crown Brush Deluxe Flat Bronzer, $13.86 (online)- If you wear powder foundation, this is THE brush for application. This will ensure the most coverage in the least amount of time. I can pretty much apply my entire face in 30 seconds with this brush, including my finishing powder. The reason why it gives the most coverage is because of its density--the bristles are very close together, yet still incredibly soft. I know this is the most expensive of the single brushes, but HauteLook generally features Crown Brush once a month or so, and I got mine through a set that was significantly reduced in price. bareMinerals makes a similar brush, but at more than twice the price, so I would definitely wait it out if you want to get it at a steal.
6) E.L.F. Studio Complexion Brush, $3.00 (Target)- if you checked out my last post, I briefly mentioned this brush in regards to apply blush, but it can also be used to set foundation. The bristles have the perfect density so that just enough product is picked up, which is a plus if you use it for blush. I would recommend picking up two, just because they are THAT cheap and THAT good. E.L.F. excels in its brush variety, with many diamonds in the rough waiting for you to find. So give yourself 20 minutes on their site, and I guarantee you will find at least five brushes that you can't live without--this one being included.
Happy browsing!

Stay Excellent,
Allie